Welcome to Quill & Quiver Fiber, your source for consciously crafted hand-dyed yarn for knitting, rug punching, and more. Founded by two friends with a shared love of history and story, all of our yarns are deeply inspired by traditional crafts and the people who keep these heritage skills alive. Our yarns are milled in Maine and dyed in the Champlain Valley of Vermont. Take a look at our rotating seasonal colorways and mini skein sets called Story Collections.
Stories
---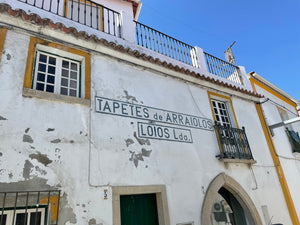 The Arraiolos - Winter 2023 Story Collection is inspired by Tapete de Arraiolos - a regional rug making tradition from the village of Arraiolos, Portugal. Tapete de Arraiolos are hand embroidered rugs...
The Lost Apples - Fall 2022 Story Collection celebrates the colors of the autumnal apple harvest and is inspired by Shacksbury Cider's Lost Apple Project, which preserves Vermont's heritage apples by turning...
The Arts & Crafts Broderer - Spring 2022 Story Collection is inspired by the work of May Morris and her embroidery designs of the late-19th and early-20th centuries. "Broderer" is...